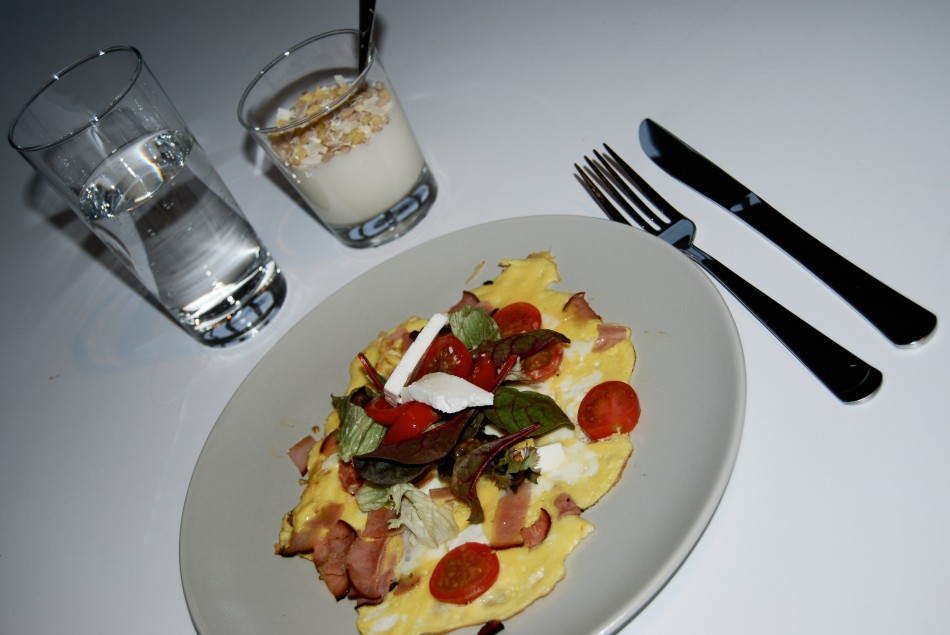 Better Morning is Hard to Find.
God morgon!
Bjuder på några hunger-väckande frukost bilder från min morgon. Jag älskar verkligen frukost, och därför lägger jag gärna ner tid och kärlek för att få äta något gott och omväxlande. 
Nu är jag inne i en omelett fas och jag gillar att man verkligen kan stoppa i allt man gillar. Idag körde jag på skinka, körsbärstomater och fetaost. Toppas med lite salladsblad, tomater och extra feta ost. Till detta, ett glad vatten och ett glas yoghurt med müsli. Mums!
Senare idag väntar möte med ett smyckeföretag, inför kommande varor till butiken. Ska även hinna med ett gympass (även om mina ben gråter efter igår) Skam den som ger sig! 
Good morning!
Check out my breakfast today – it was just as delicious as it looks!
The omelet consist of 2 eggs, 2 slices of ham and some baby tomatoes and some feta cheese. Topped with some lettuce, tomatoes and extra feta cheese. On the side I drank a glass of water, and a glass of yoghurt with the healthier version of granola. Super delicious! TRY IT!
Today, I have a meeting with a jewelry company about new items to our store, and later tonight the gym is waiting! (Even though my legs are saying no, from yesterdays workout) 
https://stylingbydey.se/wp-content/uploads/2013/02/DSC_00351-950x635.jpg
635
950
denice
http://stylingbydey.se/wp-content/uploads/2023/03/logo_new_02.png
denice
2013-02-20 10:27:36
2013-02-20 10:27:36
Better Morning is Hard to Find.