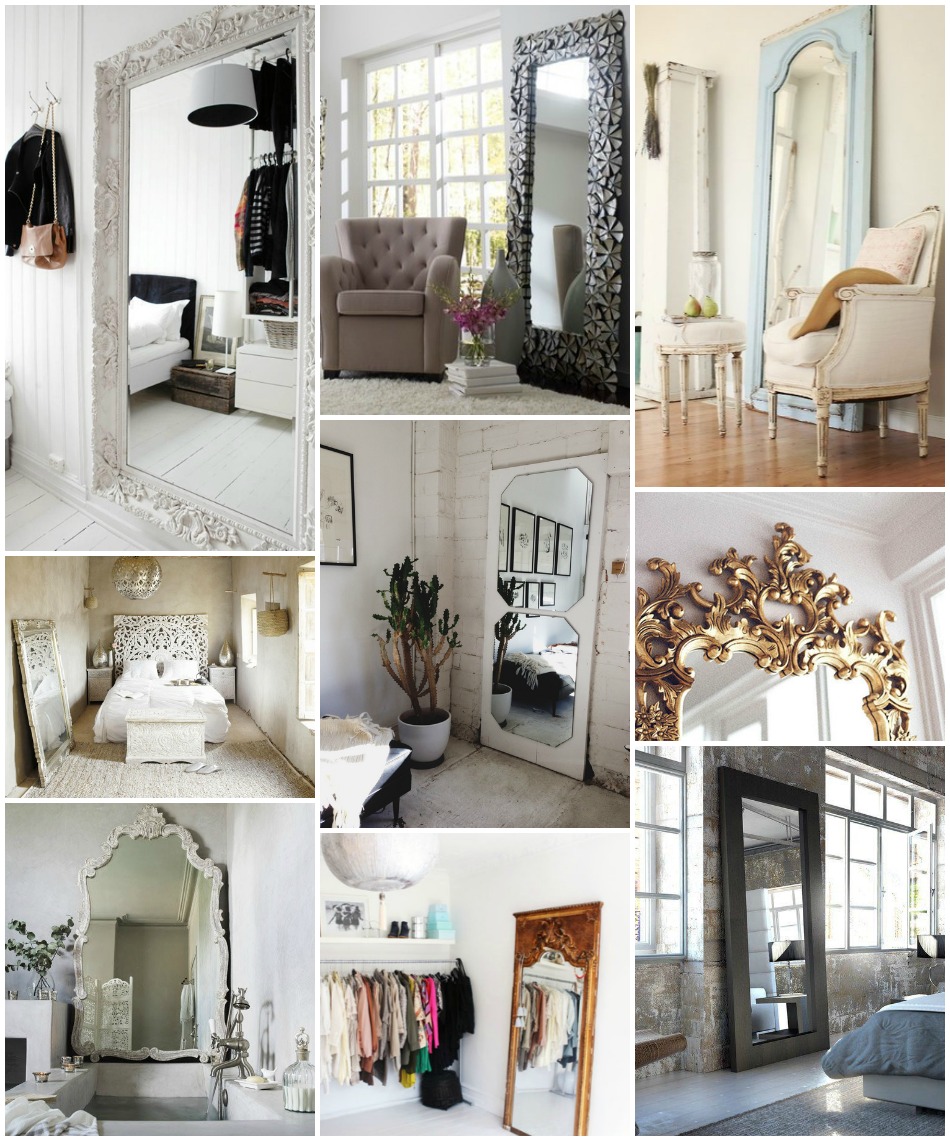 Ännu ett redskap som är både snyggt och praktiskt att ta till är SPEGLAR. En spegel kan göra ett rum dubbelt så stort, genom ljuset som reflekteras. Inte nog med det är speglar helt fantastiska, både små som stora.
Dock älskar jag stora speglar, lutandes mot väggen väldigt mycket just nu. Du slipper fixa fram verktyg, och du slipper hål i väggen. Du kan lätt flytta runt på den, och vem vet – kanske ena veckan vill du ha den i sovrummet och veckan efter i vardagsrummet? 
Blev väldigt nöjd med detta collage, blir så himla inspirerad när jag kollar på det. 
Sitter just nu och ritar/tänker ut hur min kund Hanna ska ha det i sitt nya vardagsrum, som jag har fått fria händer med. Har mycket idéer, och kan i alla fall säga att det kommer bli grymt! Och även innehålla en spegel eller två…
Another tool thats both practical and gorgeous are MIRRORS. One mirror can make such a big different in a room. A big mirror can make the room feel larger, and a tiny mirror on a huge wall can look very misplaced. But the great thing about mirrors are that they reflect light like nothing else, and thats whats makes the room feel bigger. I love all kinds of mirrors, small and big.
But right now I prefer large ones, leaning on the wall – like you can see on some pictures above. It's super practical since you can leave the toolbox in the garage and you don't have to worry about ruining the wall. Who knows, maybe you feel like having it in the bedroom one week, and the next feel like moving it to the living room, well go ahead!  
I must say I am really happy with this collage, I get super inspired every time I look at it. 
http://stylingbydey.se/wp-content/uploads/2013/04/Mirror-Collage.jpg
1141
950
denice
http://stylingbydey.se/wp-content/uploads/2023/03/logo_new_02.png
denice
2013-04-17 17:52:26
2013-04-17 17:52:26
Decorate with Mirrors.